Aeries Communications Emergency Contact and Notification Information
originally sent April 4, 2019 | content updated May 28, 2019
Dear Parent/Guardian:
We are constantly attempting to ensure that all families have both (1) accurate and adequate emergency contact information in our system, and (2 & 3) communications notification preferences set as desired. To that end, you should have received more than one copy of this message, as it was sent through both email and Communications. Please read through this message and check your online information as instructed.
1. Emergency Contact Information
To check the emergency contact we currently have on file for your student/s,
Go to the Aeries Parent Portal, click on Student Info, then Contacts
On the Contacts page, you will see the current list of contacts we have on file FOR THAT STUDENT and can change data, add a new contact, or delete an outdated one.
There is no limit to the number of contacts you can provide, but please be reasonable, this will be printed hardcopy for emergency reference :)
Aeries Communications (managed by SignalKit) is the primary conduit for messages between the district, your school/s, your student's teachers, and you. Communications is ONLY for use by teachers or school/district staff to send messages they would previously have sent by email or phone call.
2. Notification Preferences - on the Aeries Parent Portal
There should be a Communications menu item immediately to the right of the Home menu running across the top of your Aeries Parent Portal home page. Clicking there will take you to the Communications portal / SignalKit (a new window will open). You should also see your selected Communications Preferences displayed in a box on the left side of the Home page.
If you do NOT see that menu item or box, you (or someone you share this student with) have selected "Do Not Contact" as your notification preference and you will need to contact data@kentfieldschools.org to have your notification preference updated.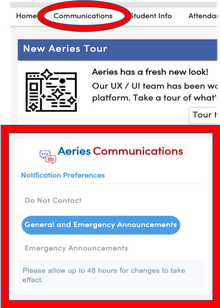 3. Notification Preferences - in the Communications / SignalKit interface
This is admittedly very confusing and we are expecting that this will be updated for next school year, but your Notification Preferences within the Communications/ SignalKit system are different from those in the Parent Portal.
This is where you choose HOW you want to receive messages that are sent to you from your teacher /school /district - we recommend enabling all methods, as Communications is ONLY for use by teachers or school/district staff to send messages they would previously have sent by email or phone call.
In the Aeries Parent Portal or mobile app, click on Communications. A new browser window will open with the SignalKit Communications interface.
Click on the circle with your initials in it, then click on Notifications.
The default when you first open this page is for no text messages to be received. We strongly suggest changing that by clicking all the boxes in the middle column.
Direct Messages are similar to texts/group texts and are typically used for communication between teachers and parents/guardians - only text/email are possible for Direct Message receipt.
General District Announcements are sent out by the district (weekly newsletter, etc.).
General School Announcements are sent out by Bacich or Kent (health alerts, school events, etc.)
Class Announcements are sent out by teachers (class updates, project info, etc.)
Group Announcements are sent out only if you are a member of a specific group (DELAC, SSC, etc.)
Grade Announcements are sent out based on your student's grade (Kindergarten, 6th Grade, etc.)
Attendance Announcements are sent out if your student is absent or tardy
Emergency Announcements automatically go out to all channels we have on file for you, that cannot be changed.
Messages that are sent only via specific delivery methods (email only or text only) will only be delivered to you if you've elected to receive those delivery methods, but ALL messages sent to you by text/email will display in your "Feed" for viewing within SignalKit.
THANK YOU for reading all the way through this and following the instructions above to help us ensure that your teachers, schools, and Kentfield School District can communicate with you as easily as possible!