District Newsletter
December 15th, 2020
Kentfield School District News
Dear Kentfield School District Community,
At the Dec. 8th Board of Trustees meeting, the Board discussed the option of temporarily implementing Distance Learning or resuming Hybrid Instruction the week of January 4th. After hearing further from teachers, support staff, administration and parents, we have made the determination to temporarily provide Distance Learning only the week of January 4th and resume Hybrid Instruction January 11th.
By temporarily providing Distance Learning only during the week of January 4th, we will offer our school community time to follow the Marin Public Health Quarantine Guidance if they were unable to abide by Marin's current Stay-at-Home Order.
Community Travel Guidance over Winter Break
If you are traveling over the winter break, we strongly encourage you to plan proactively and return to Marin by Friday, January 1st. For everyone's safety in our community, please refrain from any other travel or gathering with other households inside or outside your home after January 1st.
Per Marin Public Health, families who are unable to follow the Stay-at-Home Order MUST:
Monitor for symptoms for 14 days; if any symptoms develop, they should self-isolate immediately;
Quarantine for 10 days after engaging in a high-risk activity; or
Quarantine may be discontinued after 7 days if they test negative (diagnostic molecular rt-pcr tests only) on Day 5 or later and remain asymptomatic.
COVID-19 Testing at Bacich and Kent - January 5th
On January 5th, the KSD will host local COVID-19 testing at both school sites for all staff as well as members of our school community. To register for testing sign up here - Bacich or Kent. The deadline to sign up is Thursday, December 31st. We strongly encourage everyone in our community who are unable to follow Marin Public Health guidelines to be tested during the week of January 4th.
Winter Break COVID-19 Reporting
Marin County Public Health has asked each School District to request that members of their community report any exposure to COVID-19 or COVID-19 positive test results during the Winter Break. Reporting can be made by leaving a message at your child(ren)'s respective school site (see phone numbers listed below). Staff will be monitoring messages daily during the break to ensure necessary COVID-related communication is sent to affected families and staff.
As we prepare to break for the winter holiday, I want to take this time to acknowledge how challenging our fall has been with navigating COVID-19 in our community and shifting instructional programs from full Distance Learning to Hybrid Instruction. I extend sincere gratitude and appreciation to all our students, teachers, support staff, administrators and school families for their dedication and perseverance during this unique time. I want to conclude with recognizing our common interest in doing what is best for the students and staff of the Kentfield School District stands above all else. My hope for 2021 is that we can focus on our collective vision by doing our part in keeping our community safe and well.
Take Good Care,

Updated Resources & Reminders:
Site Specific Safety Protection Plan - Bacich & Kent (Updated Dec. 2020)
KSD Student & Family Handbook (Tier I - Stay-at-Home Version) - English - Spanish
Marin County Decision Tree Guidance - Tier I - Stay-at-Home Version
Please be sure to commit to the KSD Community Pledge via Parent Square
Marin Stay At Home Order
Dr. Matt Willis, Marin County Public Health Officer, initiated Marin's Stay-at-Home Order effective December 4th through January 4th. This proactive measure was done in an effort to save lives, protect our health care delivery system, and keep those at highest risk and essential workers safe. This order prohibits gatherings with members of other households and non-essential travel.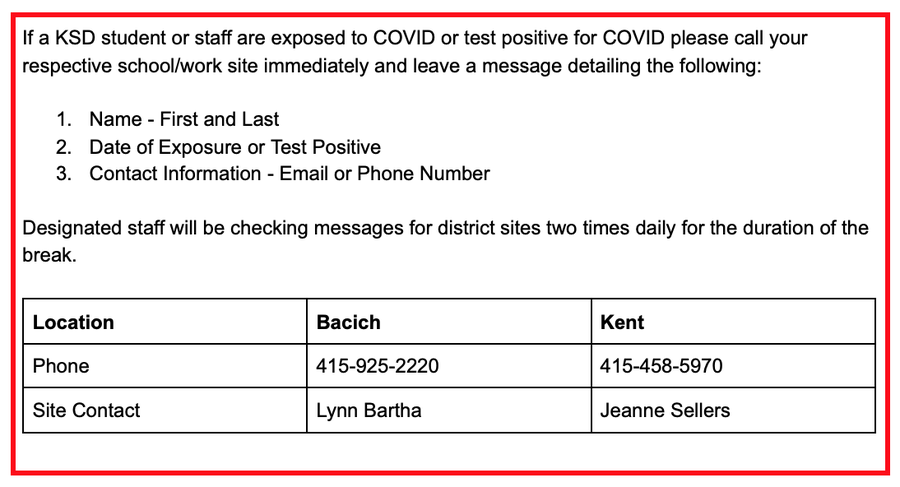 Upcoming Events
*For security, Zoom links and passwords for events are not posted on the District website, and are sent through ParentSquare.
Daily: Virtual Crossing Guard with Ms. Stephens, 7:55-8:30 a.m., Zoom
Wednesday, December 16, 2020
Budget 101 meeting, 7-8 p.m., Zoom link will be sent via ParentSquare
Thursday, December 17, 2020
Kent Festive Holiday Sweater Day – see Kent Announcements for more information
Friday, December 18, 2020
Kent Countdown Court – see Kent Announcements for more information
Bacich and Kent noon release
Winter Break: December 22-Jan 1, 2021
Thursday, December 31, 2020
Deadline to register for on-campus COVID-19 testing on January 5th
---
District Announcements
Public Health Community Conversation - January 4, 1-2 p.m.
Save the date for when we return from winter break for a Community Conversation with Public Health on Monday, January 4, 2021 from 1-2 p.m. where we will receive an update from Dr. Willis and Dr. Santora with time at the end for a Q&A.
Please submit your questions to superintendentsoffice@marinschools.org and share with your school communities.
Please click the link below to join the webinar:
https://us02web.zoom.us/j/83184438863?pwd=WWJGOGJRYU5hOFpHZFpsMlJCRllMdz09
Dial In: +1 669-900-6833 | Webinar ID: 831-8443-8863# | Passcode: 289369
The virtual call will be presented in English with live Spanish translation.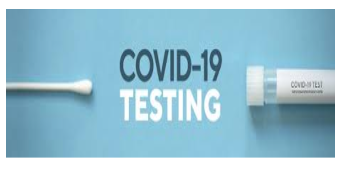 COVID-19 Testing Opportunities
COVID-19 Testing at Bacich and Kent - January 5, 2020
The KSD will host local COVID-19 testing at both school sites for all staff as well as members of our school community. To register for testing sign up here - Bacich or Kent. The deadline to sign-up is Thursday, December 31st. We strongly encourage everyone in our community who are unable to follow Marin Public Health guidelines to be tested during the week of January 4th.
Marin County COVID-19 Testing
Whether your family is insured or not there are free and easy testing options in our county.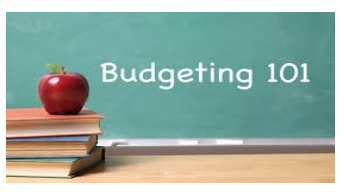 Save the Date!
Kentfield School District Budget 101
December 16, 2020 at 7-8 p.m. via Zoom webinar link will be sent via ParentSquare
School Board & District Committees
Safe Routes to School
Bacich News
Bacich Library Check Out and Curbside Pick Up
Please email the titles you want to check out to Librarian Ms. Warnick (swarnick@kentfieldschools.org).
Curbside pick up available every Friday in front of the Bacich Office.
The books will be placed in plastic bags with your names on them on a cart.
See the library blog for instructions on how to access the Alexandria Library Catalog to look for books.
Please return books on Friday in the red plastic bin labeled, "Return Bacich Library Books Here" in front of the office.

Bacich Yearbook
Photos can be submitted to bacichyearbook2021@gmail.com. Please follow the instructions below when sending your photos.
The images must be .jpg, .png, or .tif files and must be at least 300ppi resolution.
Please provide the following information with each image:

FIRST NAME and LAST NAME for the main student featured in the image (or the left-most person).
Grade of student(s) in photo.
Description.
Additional names separated by commas.
Kent News
Kent Counselors Wellness Hub: Easily access resources to help navigate this challenging time. The Counselors at Kent Middle School are here for you!
---
Attention Cohort A, Cohort B and Zoomies!
Last week we had two superb spirit days with stellar participation both on campus and at home. Let's keep it going this week! Thursday, December 17th, is Festive Holiday Sweater Day! Wear any festive holiday sweater to earn points for your homeroom!
Then on Friday, December 18th, we will celebrate ringing in the New Year with our winter tradition, Countdown Court!
The color scheme for this celebration has been silver and gold in the past, but in getting valuable feedback from fellow Falcons after last year's event, we have upgraded it to anything sparkly, shiny, or filled with sequins! We will hold a virtual celebration via Zoom.
Be sure to log on at 11:40 a.m. on Friday, December 18th, whether you are home or on campus because we will be crowning our royal court live during this awesome virtual assembly by choosing names from each grade level out of a New Year's hat! All the winners will have a special prize mailed to them over the break courtesy of Fierce the Falcon!
Remember, the homeroom from each grade level with the most accumulated points will compete in a grade level head-to-head competition in May! So get that spirit on so we can kick off Winter Break in style!
Kent Library News
Got Books?!
If you have recently added some new book fair books to your shelf, it's likely you have some books to give away! If so, bring them to Kent for our book bags! We will be accepting new and gently used books for students in grades 5-8 to add to our grab bags of books. Thanks to all who have donated already. I estimate that we have given away over 500 books already! Wow!
Curbside Pick Up!!
If your child would like to check out a book from the Kent library, they may do so by emailing me at rjelen@kentfieldschools.org. I will pull the book, if it's available, and it will be on the cart by the gate with your child's name on it for one week. Returns can go on the same cart. Thanks!
All School Read Ahead!
In January, right after winter break, we will begin reading our all school read book for 2021, This Promise of Change: One Girl's Story in the Fight for School Equity. You may purchase this title through the Book Passage or the store of your choosing or check it out of the Kent library or your local public library. Students will be reading the book with their homeroom classes and are not required to have a book in hand, as we will be providing opportunities for listening to the book and in-class discussion. I do recommend you purchase a copy, as it's an incredible true story for the whole family. You can find more information here. On January 25th, we will welcome the authors Jo Ann Allen Boyce and Debbie Levy for a virtual visit!
Book of the Day Welcomes Submissions for Squawk Talk
Does your child have a book they just read that they can't wait to tell others about? Have them create their own Book of the Day segment for our daily Kent podcast, Squawk Talk! They can use this script to create their content and then record using a phone or an online tool like Vocaroo. Segments should be around one minute and can be emailed to me at rjelen@kentfieldschools.org. What are you reading?
---
Kent Yearbook Information
KIK News

DON'T FORGET YOUR TAX DEDUCTION — DONATE TO KIK BY DEC. 31!
December 31st is fast approaching! Make your Family Giving donation in time for tax benefits! Family Giving donations directly support educational opportunities and programs benefiting all Bacich and Kent students.
Donate online or print and mail in your donation today.
E-BIKE DONOR CHALLENGE — ENDS DEC. 31
Power up your Family Giving with the KIK E-Bike Donor Challenge!
Every family that donates at the Family Giving Ask through December 31, 2020, will be entered into a drawing for a Stromer ST1 Sport e-bike generously sponsored by Amanda Mulholland Real Estate and Marin Service Course.
The Stromer ST1 is the ultimate in commuting e-bikes. Made in Switzerland, this e-bike combines quality craftsmanship, cutting edge engineering and app-based software. Retail value is $4200.
Drawing Eligibility: Donate "The Family Ask" ($1800 per child) through December 31, 2020. You'll be entered into the e-bike drawing held on January 11th, 2021. Questions? Email familygiving@kikschools.org.
All donors who have already contributed at the Family Giving Ask will be automatically entered. Already donated and want to "power up" to the Family Giving Ask? We welcome your additional donation by December 31, 2020 and you'll be entered into drawing. Thank you!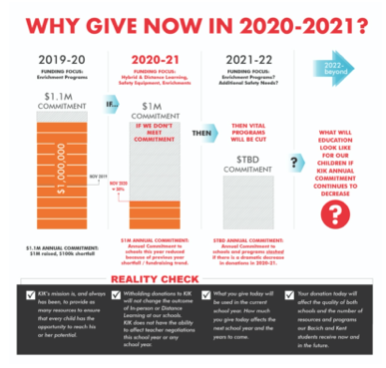 WHY GIVE NOW IN 2020-21?
There are short-term and, most importantly, long term effects of falling short of our Annual Commitment to our Bacich and Kent schools. Learn more about Why Give Now?
Missing the mark on Family Giving goals means our children missing out on opportunities that well-funded schools provide and that KSD kids have benefitted from in the 41-year history of KIK.
It's been a challenging 2020—Family Giving donations are down -29%.
Let's secure our children's quality education now and for years to come. Help close the gap by donating today!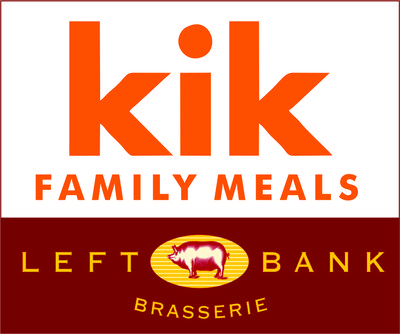 TUES 12/15 - 12/29 KIK FAMILY MEALS WITH LEFT BANK, 20% TO KIK
Every Tuesday Left Bank will create a special family dinner for $50 and donate 20% back to KIK. Order now for pickup on Tuesday. Now, more than ever, restaurants need our support! You can support Left Bank and our schools each week.
Check out our website for an exciting new promotion with Left Bank!
Want to get a weekly email reminder to order? Opt in here!
Dec 15: Roast chicken, mac & cheese, salad verte, green beans
Dec 22: Beef Bourguignon, mashed potatoes, brussel sprouts, salad verte
Dec 29: Fried chicken, mac & cheese, brussel sprouts, salad verte
Order online and select "KIK Family Meal." The December menu is posted on our website. Thank you!
Follow us on Facebook & Instagram for updates on menus and reminders.
Questions? Email events@kikschools.org.
HOME FOR THE HOLIDAYS? Shop KIK Local Business Partners
Please shop, dine and plan fun activities with the local businesses who partner with KIK to support our schools. Their partnership and donations are meaningful to our schools and we are grateful for their support and yours.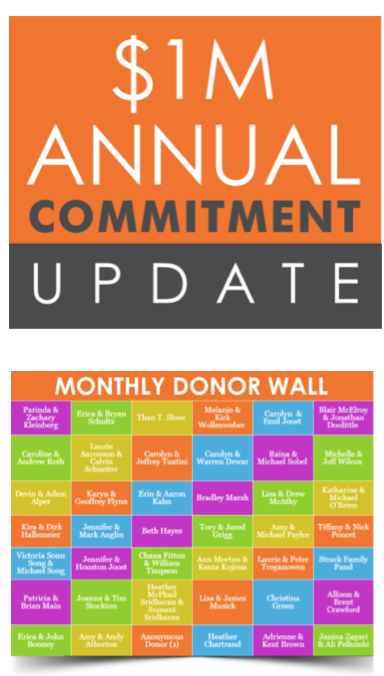 ANNUAL COMMITMENT REPORT
KIK raises dollars toward the $1M Annual Commitment to help fund our Bacich and Kent schools. Various fundraising initiatives combine to fill this commitment to our students and schools including Family Giving, Spring Auction Event, and Partners for Education.
Get details on the $1M Annual Commitment.
ANNUAL COMMITMENT Fundraising Status : $413,639 / $1M GOAL
THANK YOU, 2020-21 DONORS!
KSPTA News
Next General KSPTA Meeting: Monday, January 25, 2020, 7-8:30 p.m.
Kentfield families and members will receive the Zoom link and password. If you do not receive the link, please contact info@kspta.org.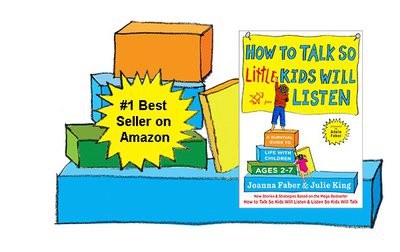 Parent Education: Parenting in the Pandemic
Could you use some fresh ideas for surviving the new demands of parenting during a pandemic?
Is there more whining, crying, fighting or defiance in your home (yours or your child's)?
The KSPTA is happy to offer a FREE on-line event with Julie King, the acclaimed author of How To Talk So Kids Will Listen. Please join us and Julie King http://julieking.org for a talk about Parenting in A Pandemic.
In this one-hour online presentation, Julie King shares useful guidance and tools for parents who are doing their best to cope with the effects of the pandemic on home life. Her presentation is interactive, and includes topics such as:
Children under stress: understanding typical behavior, and how to support children with shelter-in-place
How to engage children's cooperation
How to reduce the fighting
Strategies for dealing with all the screen time!
Time at the end is reserved for Q&A.
Spanish Interpretation will be available.
Dates:
For parents of Kent aged kids: December 15, 2020, 8:15-9:15 p.m.
Zoom will be close captioned in English and then translated into Spanish and streamed live here: bit.ly/ParentingDuringThePandemic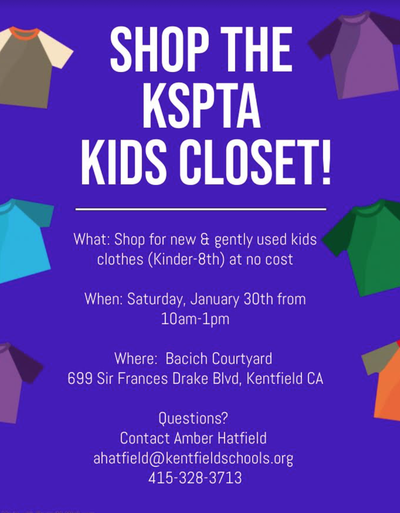 Start setting aside your gently used children's items for the KSD Kids Closet, launching early next year. We will collect donations of new and used clothing in excellent condition to create a closet for KSD families in need of children's clothing.
Details coming in early 2021, stay tuned!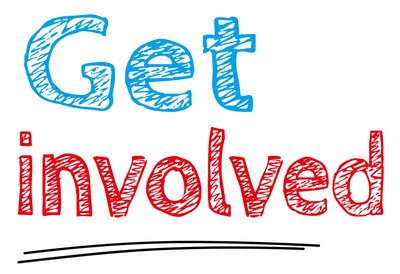 Join the Nominating Committee
KSPTA is an all-volunteer organization, and we're always looking for new voices and leaders in our community. Our Nominating Committee works to identify and recruit leaders for roles ranging from the Executive Board to Bacich Halloween Parade coordinator. "Nom Com" meets (virtually this year) in February or March at least once, usually twice. If you are interested in serving on this committee or becoming a leader in your KSPTA, please email president@kspta.org.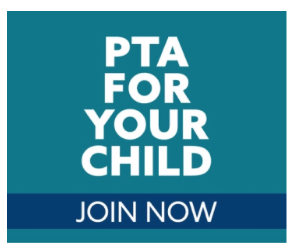 Thank You New PTA Members!
Thank you to those of you who joined during our Membership Month! There's still time to join and support our schools.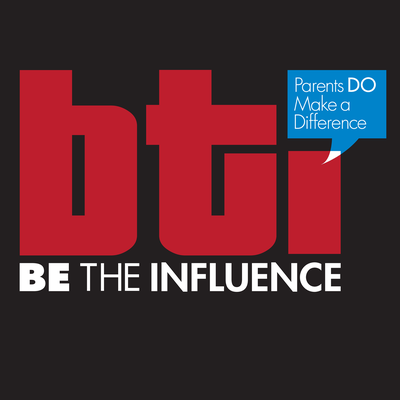 KSPTA is proud to support Be The Influence!
To get up to speed about adolescent substance use in Marin, consider joining Be the Influence (BTI). Be the Influence (BTI) is a parent education and support program on adolescent substance use in Marin. It started at Redwood High School and now has spread to all public and independent middle and high schools in Marin.
Check out their website and consider joining other Kent parents to be in-the-know and get effective parenting tips.
You can make an optional BTI Parent Agreement or simply sign up to receive their bi-monthly newsletters.
You may also follow BTI on Facebook. It's never too early to get educated and start talking with your child about this important topic!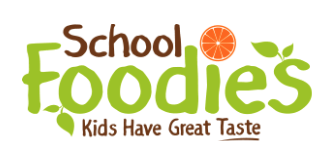 New School Lunch Program with School Foodies
Order online, pick up at Kent for the week. Choose which weeks you order, and order for the whole family!
Sign up at schoolfoodies.com, registration code "bacich" or "kent"
School Foodies pick up time: Mondays, 12-1:30 p.m. at Kent, except for when Monday is a holiday.
Distance Learning Resources at KSPTA