Board Meeting Highlights 2018-2019
June 11, 2019
Tuesday was the School Board's annual recognition meeting, starting with tenure recipients. It was the Board's pleasure to recognize the teachers who have been awarded tenure. From Bacich: Claire Adams, Marjorie Bukowski, Isabella Fanning, Jordana Franzblau, Britnee Stone, Elizabeth Peterson and Katherine Stern. From Kent: Stephanie Blazek, Thomas Kiehfuss, and Erika Salazar (who also works at Bacich). Congratulations, all!
Next, the honors and appreciation went to outgoing parent group presidents David and Annie Riedel (kik) and Pere Wait (KSPTA). Their fundraising prowess and equity leadership will be missed by KSD.
Golden Bell award winners Julie Gallagher (7th grade Language Arts teacher), Michael Bessonette (Innovation Specialist) and Andrew Korff (Director of Technology) were lauded by their administrators, peers and Trustees.
Retiree Peter Goetz is leaving the profession after teaching at Kent since 1996. In his own words, Peter says that "Our students and my fellow teachers have brightened and touched my life in myriad ways." You will be missed, Mr. Goetz!
Committees
The Board wished to recognize individuals who serve on various committees throughout the district. Term length varies from one year to "until the job is done." More information on how to become involved in a committee will be published in the Fall.
Quoc Tran - Trustee
Sarah Killingsworth - Trustee
Jason Hartka
Pere Wait
Heather Ainsworth
Kristi Burlingame
Katharine O'Brien
Ashley Paff
Tim Lentini
Celeste Perez
Sally Peck
Grant Althouse
Heather McPhail Sridharan - Trustee
Davina Katz Goldwasser - Trustee
Lindsay Wilson
Lindsay Tonderys
Renato Beltran
Adrienne Brown
Annalyn Chargualaf-Peluso
Jenny Walsh
Methinee Bozeman
Heather McPhail Sridharan - Trustee
Sarah Killingsworth - Trustee
Amy Bornstein
Lindsay Tonderys
Kira Hallemeier
Erica Applestein
Annie Riedel
Amy Atherton
Christine Melbardis
Methinee Bozeman
Celeste Perez
Kathleen Helmer
Vicki Song
Laurel Yrun
Jenny Walsh
Methinee Bozeman
Heather McPhail Sridharan - Trustee
Davina Katz Goldwasser - Trustee
Tsehai Woldgiorgies
Maria Teresa Garcia
Marta Herrera
Aime Minaya
Amber Hatfield
Kari Canon
Lauren Vaughn
Amy Bornstein
Christina Chan
Holly Myers
Scott Hershman
Methinee Bozeman
Sally Peck
Jen Wallen
Isabelle Fanning
Marty Ross
Victoria Denson
Britnee Stone
Kristi Burlingame
Lindsay Wilson
Elizabeth Estes
Christine Melbardis
Renato Beltran
Lindsay Tonderys
Grant Althouse
Jenny Walsh
Lisa Sandberg
Myra Anderson
Jason Gatti
Jeff Deboi
Lisa Bridges
Ben Resnick (student)
Rori Anderson (student)
Zachary Baumgarten (student)
Ellie Kemos (student)
Marin County Special Education Advisory Committee
The building projects at Bacich are expected to be completed in time (and within budget) for the start of school. Finishing touches are being put on the new classroom and administrative building, and the remodeling of the old office space will begin on Monday.
At Kent this summer, a fence will be constructed that will enclose the front of the school, putting a stop to the use of the campus as a thoroughfare from College Avenue to Stadium Way. The enclosure of the campus puts our students and staff one step further from harm's way by controlling access to the campus during the school day. When school is not in session, the public is welcome to pass through Kent on foot.
May 28, 2019
During the Governance section of Tuesday's board meeting, Trustees agreed to create two new board committees – one focused on Equity and the other on Technology. After the District Strategic Planning session on Oct 17-18, 2019, they will determine the goals and purpose of these two new committees based on district priorities. The Board hopes that all will consider being involved in both the District Strategic Planning session and any Board committees if interested. All perspectives and insights are valued. More details will be coming shortly about how to get involved.
During Public Comment, several teachers, parents, community members, and former students addressed the Board to raise issues and questions about the contract negotiation impasse and next steps. The Board welcomed all feedback and is completely invested in a mutually agreeable outcome for all parties.
Public hearings were held for the proposed 2019-2020 budget, LCAP, and reserve level. All three documents are available online for perusal and comment for the next two weeks. Final adoption is voted on by the Board at its June 11, 2019 meeting where comments may also be made to the Trustees. District Business Official Barbara Johnson presented the Board with an outline of the key features of the budget.
May 14, 2019
The Kindergarten program was highlighted at Tuesday evening's Board Meeting. Teachers Erica Johnson and Heather Snyder were assisted by four students who sang songs and demonstrated their reading and writing of "snap" words, also known as "sight" words. They also showed how stuffed animals are used to create authentic audiences for student performance. Students read to their stuffies and taught them to write snap words on their mini-whiteboards as one strategy of Reading and Writing Workshop.
Members of the Kentfield Teachers Association addressed the Board with their concerns over the impasse that the District and teachers' union have declared in contract negotiations. Teachers shared personal stories of being unable to make ends meet on their current salaries and expressed their dissatisfaction over the Board's offer of a 1% increase when KTA is demanding 3%. The Board assured the teachers that they are valued and heard, and that the District is entering mediation over the impasse in good faith and with high hopes for a mutually amenable resolution.
The Board approved a contract with Siri Grading & Paving, Inc. for the Back 50 construction project at Kent in the amount of $333,777.00. There were two bids submitted. The work will begin as soon as school lets out for summer and will be completed for the start of school in September. This project is the culmination of several years of planning, kik fundraising, and student and staff input. We anticipate the result will be a more attractive, usable, safe space for students to enjoy and we can't wait to cut the ribbon!
April 16, 2019
At its Tuesday meeting, the Board of Trustees learned about the visual arts program at Kent from teacher Michele Montgomery and four of her students. The fifth graders described a lesson and project which integrated plant science and resulted in students creating a flower of their own design with accompanying seed packets. The eighth graders described their creation of printed cloth derived from the Ashanti people of Ghana. Their work included a basic sewing lesson which allowed their cloth panels to be made into wall hangings, and which prepared them for more sewing for their Project Runway collections. Lastly, Ms. Montgomery shared the art she is working on, intricately decorated eggs using a batik-like process of wax application and dyes, a process she learned at her Russian grandmother's knee when she was preschool-aged. Gorgeous!
Liz Schott gave the Board an overview of the reports available from the district's second administration of the Youth Truth survey of students, staff and families. Youth Truth allows us to understand the experience of these stakeholder groups in our schools in areas such as culture, relationships, rigor, and engagement. Staff at both schools have worked with 2018 data to examine and respond to student data and presentations to various groups have included snapshots of Youth Truth data pertaining to that group's work. We plan to expand our use of the data as we increase our own skills at analyzing it. Over 1000 members of our community participated in the survey this year - all students, all staff, and 255 individual family members, a number we would like to see increase in years to come. Public reports are available at https://youthtruthsurvey.org/ . There is an orange login link on the top right of the home page. Login: youthtruth@kentfieldschools.org; password: KSD201920.
Former kik President Marita Daly presented information to the Board on the Brady United Against Gun Violence initiative. The basic tenets of Brady United are: creating a gun safety culture in people's homes, commit to social-emotional education in the schools, have a plan for responding to school shooters, and ensuring that people know where to report threatening or concerning behavior in our students and neighbors. The District Safety Committee will discuss at its May 22, 2019 meeting what was learned, and the Board representative to that committee will report back at a future Board Meeting if any changes are needed to our Comprehensive Safety Plan. The Safety Committee meetings are held in the District Office Board Room from 9:00-10:00 a.m. and the public is welcome to attend.
The Board discussed the Superintendent Search, which has been disappointing for the lack of response to the Request for Proposals from search firms, and concerning due to the number of searches underway in Marin County. Given the likelihood of having to appoint an Interim Superintendent while a longer search is conducted, the Board asked Liz Schott if she would be willing to stay at least one more year to ensure a less disruptive transition to the District's next leader. She agreed and is looking forward to the exciting work ahead. Read the School Board's letter announcing this development.
March 12, 2019
The Kent Mathematics department presented its Middle School Curriculum Exploration and Adoption Process to the Board. The team – Jill Klima, Cassie Hettleman, Tim Lentini, and Brad Widelock – outlined the work they have done this year to identify a new math program for sixth, seventh, and eighth grades. Of the five publishers the team has hosted, two will be selected for piloting next year. A rubric developed by the teachers will be used to evaluate each program and a selection will be made at this time next school year.
First and second grade students* and their teachers, Janeen Swan, Lisa Cicurel-Jones, Cass Walsh, and Marty Ross, delighted the Board with their presentation of Reading Workshop. First graders described learning about the world through their study of non-fiction books including one about dogs rescuing people from drowning and another about dolphins. Second graders demonstrated ways they are becoming experts about the world through their study of books on topics such as stars, frogs, and sharks. The progression of skills acquisition was evident, and the students' love of reading and talking about their reading was obvious.
English Learner Coordinator and English Language Development (ELD) teacher Amber Hatfield updated the Board on the district's programs for second language learners. We currently have 51 language learners at Bacich and 21 at Kent. In addition, there are 16 Bacich students and 58 Kent students who have already graduated from ELD services and who are designated proficient in English. Kudos to these students for a huge accomplishment! The district will be celebrating these students at a ceremony on May 21, 2019 in the evening. Parents of English Learners meet regularly to learn about their children's programs, get support with topics like conferences and registration, and provide input on our Strategic Plan and LCAP. These ELAC and DELAC meetings are noticed in the district's weekly newsletter and further information about the program can be found on the helpful ELD website (www.eldkentfield.com).
* While we previously published the names of student presenters at Board Meetings, recent amendments to policy prohibit us from doing so since these highlights are public record.
February 12, 2019
At its regular meeting on Tuesday, the Board of Trustees enjoyed a comprehensive presentation on the status of the district's technology and innovation programs from teachers Michael Bessonette and Peter Goetz, and Technology Director Andrew Korff. Several students also joined to demonstrate ways they use technology and employ innovation at Bacich and Kent. Second graders Will Orlick and Eleanor Hershman; third grader Kate Miller; fourth graders Savannah Ferrari and Chase Hatch; sixth graders Skyla Thomas, Sadie Kawaja and Odin Palen; and eighth graders Bryce Kim, Lauren Mann, and Max Malone demonstrated everything from coding to T-squares, illustrating the wide range of possible learning opportunities available in our district using the disciplines of Science, Technology, Engineering, Art, and Math (STEAM). The Board has decided to agendize a discussion of all they learned from the staff/student presentation and audience comments at its March 12 meeting. The agenda for that meeting will be posted on March 8th with the approximate time the discussion will be held.
Immediately following the presentation, David Riedel was sworn in as the newest Trustee. David was selected by the Board last week. He is the president and founder of Riedel Research Group, a parent of two district students, and former Board member of the Kentfield Schools Foundation – kik. Welcome, David!
The Board voted to adopt the 2019-2020 calendar following its acceptance by the teachers' association. Highlights include: September 3, 2019 – first day of school; June 12, 2020 – last day of school; October 9, 2019 – school holiday; December 23, 2019 to January 3, 2020 – winter break.
Kent Counselor, Heidi Longo, shared highlights of the counseling program, including the recent lessons for eighth graders on Signs of Suicide. Students frequently cite stress as a contributing factor when they find themselves depressed, and these feelings often lead to substance abuse. Kent's counseling staffing is the equivalent of one full-time person and one ⅔-time person, in addition to two interns. Students may self-refer, refer their friends, or parents may call to ask that a counselor check in with their child.
The district's newly-compiled Comprehensive Safety Plan was approved by the Board. This evolving plan is intended to address the wide range of issues related to safety on school campuses in addition to disaster preparedness: child abuse reporting requirements, discipline, harassment policies, and ingress/egress procedures, among others. The plan is available online, and we welcome your input. Please contact lschott@kentfieldschools.org with any comments.
January 8, 2019
At its first meeting of 2019, the School Board enjoyed learning more about Math in third grade, Language Arts in fourth grade, and Teachers College Reading Workshop strategies in seventh grade. Katy Colwell's and Jenna Maioriello's students from the third grade class – Zachary Bessonette, Ethan Finkelstein, and Isabella Lo – shared their discoveries while learning multiplication using arrays. Fourth graders Grace Davidson, Rebeca Vera Rivera, Henry Jackson, Anastasia Lazarenko, and Blake Cussen assisted Maria Martin by talking about their poetry unit taught by KSPTA-grant-funded poet Claire Blotter, and read their original poems. Finally, Kent students Zachary Baumgarten and Bella Wagner led the Board through a reading lesson just as their teacher Julie Gallagher had done in class.
The School Board was informed prior to this meeting that longtime Board Member (13 years) and past President (8 years) Juli Kauffman resigned effective January 3, 2019. The Board moved to accept applications for the remaining two years of Ms. Kaufmann's seat (ending December 2020). All applications will become public record upon receipt by the District. An information session will be held on Tuesday, January 22, 2019, 6-7 p.m. at the District Office, 750 College Avenue, Kentfield, CA. Applications are due to the district by 12:00 p.m. on Friday, January 25, 2019, and interviews will be held in an open session of a Special Board Meeting on Thursday, February 7, 2019 at 4 p.m. in the District Office. Inquiries may be made by calling the District Office at (415) 458-5130 X 9, or by emailing Maureen Moulton, Executive Assistant to the Superintendent, at mmoulton@kentfieldschools.org.
The Board feels that the appointment process presents a valuable opportunity for the Kentfield School District to bring new perspectives to the Board, and encourages all qualified and committed people to apply.
The annual audit of the District's finances as of June 30, 2018, was presented by Stephen Roatch, CPA. The analysis included Measure D Bond Funds (Financial Audit and Performance Audit). The auditor found one instance where a charge was made to the bond fund in the wrong fiscal year, but that was corrected. No other findings were made and Mr. Roatch affirmed the strong fiscal health of the district.
December 11, 2018
At its regular December Board Meeting on Tuesday, the Board of Trustees, staff, family and community members said goodbye to outgoing Trustees Ashley Paff and Cynthia Roenisch and thanked them for their 23 years of combined service.
Then the Oath of Office was administered to new Trustees Sarah Killingsworth and Davina Goldwasser, and reelected Trustee Heather McPhail Sridharan.
Sarah is the parent of two boys, Colin (6th grade) and Sean (4th grade), and a long-time volunteer in our schools, on the kik Board, and as co-chair with her husband John of the successful Measure A Parcel Tax campaign in March of this year. Sarah is a practicing attorney and mediator whose top three priorities for the district are better community dialogue and transparency, greater differentiation in education, and fiscal responsibility.
Davina Goldwasser is Director of High Schools in San Francisco Unified School District. Her two sons Asher and Lev are in 3rd and 1st grades respectively. Davina's goals are to support teachers in full implementation of differentiated instruction, to provide a voice for students and families, and to hold the district accountable for meeting the needs of underperforming student groups.
Heather McPhail Sridharan has served on the Kentfield School Board for five years, while simultaneously raising her four children - Tara (7th), Mira (5th) and twins Samir and Anya (3rd). Heather's priorities are to ensure differentiated instruction across all subjects and classrooms, addressing the achievement gaps between student groups, and monitor the fiscal stewardship of district resources. Heather is a fourth generation Marin native.
The incoming Board was seated, and elections were held for Board leadership positions. Heather McPhail Sridharan was chosen Board President, and Sarah Killingsworth was elected Clerk.
The organizational portion of the meeting was followed by the Education Showcase featuring Art at Bacich and Science at Kent. Fourth graders Vivienne Fitzgerald, Elaina Leighton, Ethan Greenberg and Henry Segal along with 3rd graders Cali Grigg, Rachel Towns, Joy Orrego, Nico Orsine and Sarthak Kamble described, demonstrated and taught Board members the technique known as Suminagashi. This was followed by 7th graders Neave Cleary, Kiana Collins, Matthew Marotto and Anderson Rowe describing their Science focus on testable questions. The Board was challenged to identify testable questions about photos of animals in their habitats and about dipping birds.
The Kent building projects were officially accepted by the Board with its approval of the Notice of Completion provided by our contractors. Of note is the fact that not quite 70% of the contingency was used at Kent meaning over $200,000 will be returned to the District for application to other facilities needs. Work continues at Bacich of course where the projects are 22.84% complete as of November 30, and 16.05% of the contingency has been used.
November 13, 2018
At this week's School Board meeting, our Physical Education curriculum was on display in the Educational Showcase. Bacich teachers Celeste Perez and Ilene Braff were joined by Eloise Eyman, Parker Saven, Aaron Whitton, Rodrigue Maisonneuve, Tina Strack, and Georgia Thomas in a demonstration of stretching and tumbling. This was followed by Kent P.E. Curriculum Chair and teacher Jason Gatti who, with the help of Julia Franus, enlisted the participation of several Board and audience members in playing two P.E. games that Kent students enjoy in their classes.
The Board heard from several parents about Board Policy 6141.3, Observance of Religious Holidays, and the accompanying Exhibit which has historically listed holidays one could expect families to observe or celebrate in the course of a school year. The Board reiterated its commitment to the language in the policy which prohibits the scheduling of tests, assigning of homework, team tryouts, and more, on or around religious holidays. The decision as to whether or not a holiday will be a school recess is jointly decided on by the teachers union and the district. The meeting between these two entities to begin working on the 2019-2020 calendar takes place in a few weeks. The Policy and Exhibit will be refined by the Policy Committee before the Board reconsiders them at their November 13th meeting.
The Superintendent reported on Measure D safety improvements that are underway across our campuses. Fencing, security cameras, and a change in our fire alarms are all working through the planning stages. At Kent, additional fencing across the front of the school will create the barrier to through traffic – albeit pedestrian traffic – that we need, as well as a single, controlled entry point for visitors. Bacich's new design also incorporates fencing and a single entry point through the office. The plan for designing a security camera system at both schools is nearing approval by the Board. And, in consultation with our fire department, we are scheduling the removal of outside pull alarms at our schools. Not only are these pull alarms targets for vandals, they also can be used by people who want to harm our staff and students by causing them to exit classrooms en masse and become targets. Redwood High School has already removed its outside pull alarms, so we are aligning practice with the high school most of our students will attend.
Sally Peck reported on construction activity at Bacich and how well staff, students, and parents are handling all the changes and challenges. Most recently, the walkway past Room 1 that led into the lunch quad and across to the office, was closed for safety reasons. This has caused all foot traffic to be rerouted through the gate past the Community Center. Becky Poon and the teachers have adjusted to the in-classroom delivery model and schedule for Music, and Chorus is now being held on new risers in the Community Center. Flexibility is the name of the game at Bacich this year!
October 9, 2018
At its meeting this week, the School Board was delighted to learn about the Apache Fire Creation story enacted by four 5th graders – Julian Roth, Elsa Tschantz-Hahn, Sophia Kim and Rohan Asare – during the Educational Showcase. Rounding out the presentation on Social Studies at Kent were three eighth graders – Nathan Morales, Wyatt Turkington and Will Stephenson – sharing their "Shark Tank" pitch – including a rap – about the colony of Massachusetts.
The District's equity initiative was presented to the Board, along with an overview of last year's CAASPP scores and a sampling of Youth Truth survey responses from our English Learners at Kent. Next steps were discussed, and this data will frame LCAP goal review and development in the Spring.
The Trustees discussed a request received from a parent to make dismissal later on Wednesdays. Staff pointed out that all Marin districts dismiss early on Wednesdays and that the time is used by teachers to collaborate, learn, plan, and reflect, all in service to students. Information was provided showing that Kentfield's dismissal times are earlier than neighboring districts. The Board also learned that our instructional minutes, while in excess of the state requirements, trail our comparison group in the early grades but exceed them in the upper grades. A suggestion was made to bring this discussion to the next strategic planning session where a decision about whether or not our program needs additional time to accomplish its instructional and social-emotional goals is best agendized.
A proposal to install a system of closed circuit security cameras at Bacich and Kent was approved by the Board. Safety and security were two of the areas of focus for our Measure D Bond projects, which this proposal partially addresses. Additional fencing and gates are another measure we are pursuing to ensure we have made our campuses as secure as possible.
September 11, 2018
The Board welcomed 15 new staff members to our District: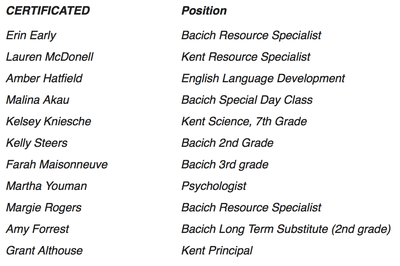 Ratification of the collective bargaining agreement with the Kentfield Teachers Association marked the successful resolution of contract negotiations begun last Spring. The Board agreed to a 3% salary increase and one-time payment of $200 for all teachers, and, as is its practice, also gave the raise to administrators and classified staff.
The Superintendent and Board developed their annual goals for the leadership and governance of the District in 2018-19. Differentiated teaching and learning, equity, financial responsibility, and completion of Measure D projects are this year's priorities.