Board Meeting Highlights 2019-2020
January 14, 2020
At its meeting on Tuesday, the School Board learned about student assessment in the Language Arts classes at Kent, and how certain grading practices are enabling students to improve their work by pinpointing feedback. Teachers Julie Gallagher and Christy Stocker were joined by two sixth grade students in this presentation of rubrics and feedback forms being used to help students take responsibility for their own growth in reading and writing.
Bacich Principal Sally Peck announced her retirement after 16 extraordinary years as that school's leader. Sally's tenure at Bacich began in 2004 when there were fewer than 500 students. She shepherded the campus through its period of 700+ enrollment and the recent construction projects which tested every aspect of Bacich's patience and tolerance. Sally's steady hand at the helm was key to our being able to finish those projects on time and within budget. Through massive curricular developments such as Common Core, to the advent of Transitional Kindergarten, to the maker revolution, Sally has been a step ahead and shoulders above the rest. Bacich has been an example to other schools, and Sally a mentor to innumerable administrators throughout the county. We will celebrate her many contributions to the district at the end of this school year.
Right before Winter Break, Bacich and Kent received wonderful holiday gifts from Mollie Stone's – checks in the amount of $5000 each! Bacich will be using their funds to augment leveled libraries in the classrooms, and Kent plans to put its funds to use on copies of The Boy Who Harnessed the Wind, the visit by William Kamkwamba, and a mural planned to highlight the themes in the book.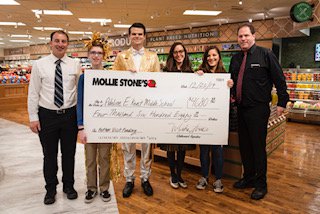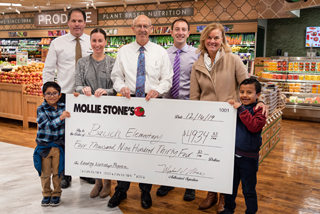 December 10, 2019
Sixth grade science students presented the Board with a recap of their engineering unit in which they employed Next Generation Science Standards to create and test model cars under the guidance of teachers Alison Griffin and Ron Pembleton. The students described their process and answered Board members' questions in small groups and demonstrated the performance top producing cars on a slantboard.
The first written version of a draft strategic plan was presented. Several members of the group who met in October to brainstorm and prioritize goals for the next three to five years were in attendance. They asked questions and offered suggestions to the writing team that will bring a next draft to the Board at its January meeting. It was mentioned that this document is important for the process of selecting the District's next Superintendent.
The first interim budget report was presented by District Business Official Kirsten Starsiak. The district was able to certify to the county that we can meet our financial obligations for the next three years only after reducing $1 million in expenditures in next year's projected budget.
The board will be soliciting feedback for how to significantly decrease expenditures in time to produce a balanced 2020-21 budget.
To that end, there is a meeting on Monday, December 16 in the district office from 7:00-8:00 p.m. to present this information to any interested parties. Volunteers will be solicited to participate in Finance Committee meetings through the month of January that will result in a menu of recommended cuts for the Board's consideration at its February meeting.
November 12, 2019
Seventh grade teacher Stephanie Blasek represented the social studies department at Kent with an educational showcase for the Board at its November meeting on Tuesday. Stephanie showed the Board how students are taught about the reliability of source material through the use of popular culture references such as The Simpsons. She also provided a largely positive early assessment of the new social studies curriculum published by National Geographic.
District Business Official Kirsten Starsiak reported on Measure A Parcel Tax revenues and expenditures ($4,374,964) for fiscal year 2018-2019. Measure A enables the district to: maintain core academic programs, including math, science, reading and writing; attract and maintain highly-qualified teachers; maintain hands-on science and technology instruction; keep school libraries open and retain school librarians; support art, music and PE programs; and prevent class sizes from increasing to 30 or more students. An independent oversight committee comprised of local community members reviews the use of the parcel tax funds annually to ensure the funds are spent as promised.
Work continues on the new Strategic Plan, the vital components of which were drafted over two days in late October with 40 district stakeholders. A subset of that group is taking all of the notes that were generated in that initial planning session and creating a draft written document that will be discussed at the December 10 regular Board meeting. All participants in the October meetings are welcome to participate in this discussion, as are any interested members of the school district community.
Larry Chu, Vice Mayor of the Larkspur City Council, and member of the Marin County Council of Mayors and Councilmembers presented the group's 2019 report on public employee pensions and post employment liabilities. The importance of preparing for expected substantial increases in retirement benefits was emphasized in the report.
The Board unanimously voted to enter into a contract with Leadership Associates for the Superintendent Search. All stakeholders will be engaged in this process. Opportunities for involvement will be announced in the newsletter.
October 15, 2019
At its regular October meeting on Tuesday, the Board of Trustees thanked and recognized the custodial and maintenance staff at Bacich and Kent. Over the past three years, as the district underwent extensive construction, which involved multiple classroom moves, a complete change of furniture, and more literal heavy lifting; our crew of seven under the leadership of Paul Miller have done the impossible – with a smile on their faces. We so appreciate Medhanie Gebremichael, Carlos Hernandez, Kris Kuivenhoven, Jose Quintanilla, Jimmy Roque, and Jesus Zamorano. We would be lost without them.
The Library teachers at Kent and Bacich presented their programs. Susan Warnick, with the help of four fourth grade Library Pages, gave an overview of book awards, searching for a book, and interviewing for Heritage Day. Rebecca Jelen and a seventh grade student updated the Board on the broadcast class now being produced in the Library as well as other enhancements such as Battle of the Books and author visits.
The Trustees discussed Board Policy 6141.3 – Religious Observances, which was reworked last year but which continues to be confusing to teachers when scheduling tests and homework around religious holidays. Parents should be aware that observing a religious holiday is an excused absence, and any work scheduled during that holiday may be made up by students. In the case of holidays that are not school days off, it is the responsibility of the parent to communicate with the teacher about the student's absence. The errors that were made this year have been addressed with staff, and a renewed commitment to getting this right next year was made by administration. The district apologizes for any distress students experienced as a result of having tests or homework scheduled around a religious holiday.
September 10, 2019
At its regular meeting on September 10, 2019, the Board joined the entire KSD staff in wishing our Chief Business Official Barbara Johnson farewell as she leaves us to enjoy retirement. Barbara has worked in Kentfield since 1998, starting as an instructional aide in Kindergarten, second grade, third grade, and the Bacich Library, then in the business office. Speakers honored Barbara's dedication, attention to detail, work ethic, calm demeanor, and kindness. Kirsten Starsiak – who will be stepping into Barbara's impressive shoes – was welcomed by the Board.
Also introduced at the meeting were new Kent teacher Diane Darrow and Kent counselor Diana Bokaie. Calder Gilliam, seventh grade Science teacher, and Tina Perdices, Bacich School Psychologist, were also welcomed.
The start of school was by all measures a great success. Those who doubted whether or not Bacich would actually be able to open on September 3, 2019 were happily surprised when, in fact, classrooms and common areas were buttoned up, clean, newly furnished, and ready for students! The maintenance and custodial staff on both campuses have been with us through the Kent and Bacich projects, and we literally could not have been successful without them. We are deeply indebted to them for their dedication and hard work.
Laurie Durnell of The Grove Consultants International gave the Board an overview of what to expect when Strategic Planning takes place on October 17 and 18, 2019. She presented examples of templates used in the process and a general road map. This exciting process is still in need of participants, both teachers and parents. We have extended the deadline for letting us know of your interest. Please email lschott@kentfieldschools.org by next Friday, September 20, 2019 to be considered.