Aeries Parent Portal
Aeries is our new Student Information System this year, replacing PowerSchool. The Aeries Parent Portal allows you to check your student's grades and attendance online, view and update your student and family's information and emergency contacts, select your district communication preferences, and sign up for weekly email updates on your student's progress at school. If you have any difficulty signing in to or using Aeries, please send an email to data@kentfieldschools.org.
On this page you will find the following basic help topics:
Accessing the Aeries Parent Portal for the First Time
Updating your Email Address or Password
Communications / Notification Preferences
Weekly Progress Emails
Student Data Confirmation
Emergency Contact Information
Resources Links
Accessing the Aeries Parent Portal for the First Time
You should have received an email from the District with the email address and password you'll use to access Aeries for the first time. Write down this information, then visit the Aeries Parent Portal. After you sign in, you may create a new password if desired.
Updating your Email Address or Password
Once you log in to the Aeries Parent Portal, clicking on your email address in the upper right-hand corner will reveal a dropdown menu from which you can choose to change your Password or Email Address.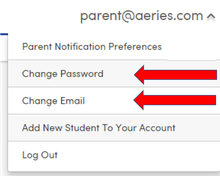 Communications / Notification Preferences
Aeries Communications (managed by SignalKit) is the primary conduit for messages between the district, your school/s, your student's teachers, and you. Communications is ONLY for use by teachers or school/district staff to send messages they would previously have sent by email or phone call.
There should be a Communications menu item immediately to the right of the Home menu running across the top of your Aeries Parent Portal home page. Clicking there will take you to the Communications portal / SignalKit (a new window will open). You should also see your selected Communications Preferences displayed in a box on the left side of the Home page.
If you can see the box and the selection in that box is "Do Not Contact," simply select "General and Emergency Announcements" to begin/resume receiving all messages from your school/district. If you do NOT see that menu item or box, you (or someone you share this student with) have selected "Do Not Contact" as your notification preference and you will need to contact data@kentfieldschools.org to have your notification preference updated.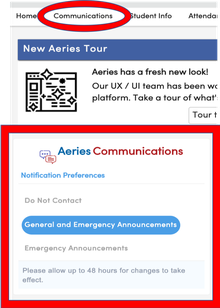 An option labeled Parent Notification Preferences will also display in the drop-down menu when you click on your username in the upper right-hand corner. This screen allows you to sign up for weekly progress report emails for a preferred day and time and to adjust your Communications notification preferences at any time.
To check/update your message delivery methods, go to the Communications portal (a new browser window will open). Once there, click on the circle with your initials at the top left of the page to open your personal settings and choose the Notifications page, where you can select your desired delivery method for each type of message.
Weekly Progress Emails
Aeries has a feature where you can subscribe to weekly progress emails from within the Aeries Parent Portal containing up to date attendance and gradebook information. The information contained in this email is the same information that is available through the parent portal.
When you log into the parent portal, you will see a banner prompting you to sign up for weekly progress emails if you have not already done so. You may also elect or edit your weekly progress email settings under the Notification Preferences menu item as explained above.
Student Data Confirmation
When you sign in you may see a yellow or red alert at the top of the page, asking you to complete the Student Data Confirmation Process; this message will always appear before the start of a new school year and will remain until you complete this process. You be able to access other parts of the parent portal only after data confirmation has been completed. Please follow the link in this message to complete Data Confirmation.

Student Data Confirmation is an annual process, and is a vital part of ensuring that we have all the information we need to keep your child safe in the event of an emergency.
If you have more than one student in the District, you will need to complete Student Data Confirmation for each student separately.
Click the Change Student button at the top of the page to choose a different student to complete the process again.
Emergency Contact Information
Parent/Guardian and Emergency Contact Information is found on the Contacts page under the Student Info menu item.
On this page, you may view and edit all current Contact information related to THAT STUDENT and can change data, add a new contact, or delete an outdated one.
There is no limit to the number of contacts you can provide, but please be reasonable, this will be printed hardcopy for emergency reference :)
Resources Links
After signing in to the Parent Portal, scroll down to the section marked Resources for a link to the Kentfield website, help documents pertaining to the Aeries Communications system and app, and other resources as they become available.
Please note that you will only see the link relevant to the student record you are currently viewing - if you have students at both schools, you will need to switch students to view school-specific links.